Advice for Entrepreneurs
from Lee Tabas
President, TABASFUNDING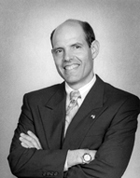 As a banker for more than 30 years, I have some credentials to provide advice. First, don't underestimate the value of having a business plan for what you want to do. It is a good mental exercise for you; you can show it to others and "two heads are better than one".  If you are seeking funding, make sure that you  spell check the plan. Length is not an advantage in a small business plan. 10 pages maximum- busy people don't have time to wade through duplication and statistics that you copied from the internet. Make it concise.
Don't skimp- have an accountant or MBA or other financially capable person help you put numbers to what you are doing. What financiers look for is someone who can "do numbers". It does not have to be you, but you have to have access to someone who can do it.
Here are sources of funding in order of desirability:
Your local bank or bank in cooperation with the Small Business Administration- this will be the cheapest source of funds. However, you may not get all that you need, and you may not get it when you need it.
Private Loan or Investment from Friends and Family- Why not let others earn more than they could in the general market by backing you in your business enterprise? Bad Idea- Do not ask any relatives to co-sign! It is OK for them to risk their own money, but you don't want to get them involved in leveraging for you, or possible disputes with banks.
TABASFUNDING- we are more expensive than the bank, but we can respond quickly and are more flexible for amounts of $100,000 to $750,000.
Credit Cards – often for smaller amounts, borrowers can get money on credit cards quickly, and with no collateral. That has too be worth something in terms of the high interest rates that you pay.
Merchant Cash Advance Funding- in today's low interest rate environment, a lot of money is being put into this type of funding where amounts from $5,000-$100,000 are being lent against credit card receivables with repayment by charging the borrower's bank account. The interest rates are exhorbitant, in many cases over 100% annually, yet many businesspeople take the financing. Repayment is aggressive- 90 to 120 days. I advise all businesspeople to stay away from this type of financing.
Selling Stock – Hard to do correctly. Either you do a public offering, which is tremendously expensive, or if you sell shares privately, you need heavy legal and accounting help. There are some new procedures recently approved for Crowdfunding, I would advise caution for both those seeking funding, and those thinking of investing.  There is a lot more risk in this than most people realize.
Best Wishes with your business and contact us for further information.