Expert Witness and Consultant Resume

CONSULTANT / TRUSTEE
Ability to help through experience in banking and investing: loans, deposits, administration, collection, leadership, liability, conflicts of interest and documentation. Experience as a Trustee for Trusts and Foundations. Track record of helping entrepreneurs with growth. Strong capabilities testifying in court on legal matters.
October 24, 2019 – Lee Tabas spoke at Jefferson University to MBA students about entrepreneurship.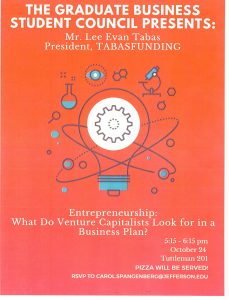 SKILL SUMMARY
Background in community banking and entrepreneurship. Outstanding ability to communicate and explain procedures and concepts in understandable terms. Engineering education. Entrepreneur skilled in training staff in exceptional client service and relationship management. High energy professional known for intelligence, action, and integrity. Trusted advisor to bankers and business owners.
MOST IMPRESSIVE ACCOMPLISHMENT
Steering Royal Bank of Pennsylvania through the choppy waters of the 1990 Recession. At one time, almost 10% of the assets of the bank were non-performing. The bank made a steady recovery and in 1999 earned more than $12 million.
CAREER HISTORY
Current – Principal of TABASFUNDING, Consultant, Trustee
TABASFUNDING 2000 – Present
President and CEO
Successfully provide venture capital and business funding for entrepreneurs to acquire or expand businesses. Please see website www.TABASFUNDING..com for further information.
Trustee– has served as Trustee for related and unrelated Trusts and Foundations. Administer all aspects of 5 Trusts and a Foundation through my office.
Consultant- Provide expert witness, banking and business consultation.
Philadelphia University (now Jefferson University) 1998 – 2013
Executive in Residence and Adjunct Professor of Banking and Finance
Facilitated MBA Seminar, "Leadership Lessons", taught courses: "Commercial Banking," "Entrepreneurship", "Strategic Marketing". Received the Bertrand Hayward Award for having "profound influence on the success of young alumni" in 2007.
Royal Bank of Pennsylvania (now Bryn Mawr Trust) 1980 – 1999
President
President of Royal Bank of Pennsylvania and its' National NASDAQ Market Holding Company, Royal Bancshares of Pennsylvania. Served as the Chief Credit Officer of the Bank. Primarily responsible for the bank's annual plans, motivating and directing the banks approximately 130 employees to reach goals established.
Riverfront Restaurant and Dinner Theatre 1975-1980
Executive Vice President and Principal
Partner in this successful hospitality facility. Supervision of staff, quality of the food, and service, Monitored levels of customer satisfaction and resolved problems as needed.
Lincoln National Bank 1972-1979
Staff Positions, Assistant Manager, Manager, VP
Started as a trainee and finished last position as Vice President.
AFFILIATIONS AND HONORS
Board Member, Haverford Civic Association
Judge, Minority Business Plan Competitions, The Enterprise Center and The Business Center at New Covenant Campus
Participant, FBI Community Partnership Program
CEO OF THE YEAR in 1996 for banks in class by Financial World Magazine
Board Member, Golden Slipper Club and Charities and Center for Seniors, Charitable and Fraternal Organization
REFERENCES
Frederick C Peters II, Former Chairman and CEO of Bryn Mawr Trust, currently Principal of Blue Stone Capital Management, 610 337 6500, tpeters@bluestonecm.com
Allen L. Rothenberg, Esq., 215 732 7000, allen@injurylawyer.com
Gregory S. Barsh, Esq., Executive Coach, Speaker and Consultant, 610-745-4734, gregorybarsh@gmail.com
Pamela Delissio, State Representative 194th District, 215 482 8726, pdelissio@pahouse.net
EDUCATION
1980
MA Equiv. (Graduate)
Banking
Rutgers University/American Bankers Association
1974
Level 1 Fluency
German
Goethe Institute, Munich
1972
BA
German (Member German Honor Society)
University of Pennsylvania
1972
BS
Mechanical Engineering
University of Pennsylvania
HOW I UNWIND
Fresh and Saltwater Fishing, Biking, Hiking, Family Oriented Activities.