We Support American Manufacturers
There is general agreement that we would like more manufacturing in the United States today. This is probably the hardest type of business to operate profitably. Principals need to be totally on top of all aspects, including raw materials, labor, research and development, and efficiency.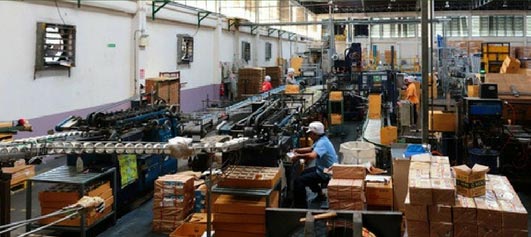 Loans for Growing a Manufacturing Business in Pennsylvania, New Jersey, or Delaware
It only takes five minutes to get the conversation started. Let's talk about how we can help you grow your business.
TABASFUNDING helped Bentley Laboratories, a contract manufacturer of cosmetics with relocation funding. The company moved from a multi-story building to a brand new one story high ceilinged building in Central New Jersey. The company had bank, industrial development funding, in addition to owner's equity, but still needed more money to finish. We provided it, the company moved, and has prospered.
We have provided funding several other times for acquisition, where the manufacturer acquired other companies in the same or similar line of business, and folded them in.
At TABASFUNDING, we will want to kick the tires, visit the plant, and talk with the principals and employees. We are not driven by collateral concerns- our primary concern is that the projected cash flow after completion, acquisition, will be adequate to cover all required payments. The owner doesn't need to be an accountant, but someone should be good at numbers and have good financial information available. We had one situation where an essentially bankrupt company was acquired with no available financial information, but by careful investigation, we were able to get comfortable and help.
Supplemental Loans
We can provide supplemental loans for manufacturers. TABASFUNDING probably won't be the primary funding source. Economic development and export programs are available to encourage manufacturing. Banks are also interested in promoting manufacturing.
Gap Financing
TABASFUNDING might be best considered to provide gap financing- when funding above the amount approved by the bank or the economic development authority is desired. Our loans for this purpose often have an interest-only period, followed by term repayment, between 3 and 7 years. As most business people know, things usually cost more than expected. Owners will need to have some "skin in the game", and will be expected to guarantee. Don't expect 100% financing. Please see the "frequently asked questions" section for general terms. Please contact us with your questions, and we'll do our best to find an answer and help you along with financing the growth of your manufacturing business.