Puerto Rico Takes a Hit to the Head
Nancy and I own Puerto Rico bonds, which have been in the news a lot recently. Some bonds are in default, and other payments are due which Puerto Rico says it will not be able to make. For a reason that no one seems to be able to determine, Puerto Rico is not eligible for bankruptcy restructuring, as other government subdivisions are. The territory has gone to the Supreme Court to ask for relief.  Hedge funds own the bonds, as well as many ordinary investors who want to recover as much as possible. Because Puerto Rico is a US territory, not a state, the bonds featured, triple tax free (US, State, and Municipal) income, making them quite attractive before now.  We have some of the better ones, still rated investment grade and insured.
Nancy and I planned a trip to Puerto Rico to get a feel for the economy and the people while hoping to enjoy ourselves as well. There is reasonable and plentiful air travel, and one does not need a passport.  Puerto Rico dangles outdoor activities, shopping, sightseeing and history as attractions.  The island was discovered by Columbus in 1493 and served as a key port in the Spanish new world.  San Juan, the capital, is a charming pastel colored city which dates from the 1500's.  We walked all over the quaint streets; there were plenty of police, and we felt quite safe going anywhere.
Almost uniformly, anyone coming in contact with tourists was super nice.  I had hoped to practice my marginal Spanish, but everyone we met spoke excellent English. Puerto Ricans get the message- keep the tourists happy and they will keep coming.  The bad news is that other Caribbean islands also have nice weather, and try hard to attract tourists.
There were quite a few empty buildings throughout Puerto Rico. I picked up the local publication "Caribbean Business" for additional insight.  Puerto Ricans are rightly concerned about legislation coming out of Congress to resolve their debt. What's proposed is an oversight board dominated by non- Puerto Ricans who would supervise the island's finances.
The US obtained Puerto Rico after the Spanish American war in 1898.  At that time, it was seen as a strategic island holding in the Caribbean.  Puerto Ricans are free to travel or move to the US at any time.  The weak economy spurs that- supposedly one doctor a day moves to the mainland for a better opportunity.
Taxes are different than elsewhere.  Most individual Puerto Ricans don't pay US Taxes, but do pay Puerto Rican taxes. There is an 11% sales tax, soon to increase in response to the financial situation.
During the 20th century there were tax incentive programs which brought Pharmaceutical firms, and others, to Puerto Rico.  When we were there, we saw several large container ships full of Asian autos unloading in San Juan harbor.  It seems that Puerto Rico could be a possible location for auto parts manufacturing.  Whether the Mexican work force is better or not, I don't know.
One thing I do know is that the Puerto Ricans have less political capital than Cuban-Americans.  After arriving as immigrants with little, now South Florida is practically run by Cuban-Americans. They have clout.  To that point, they kept the US from establishing relations with Cuba for over 50 years. Two of the presidential candidates were of Cuban heritage.  There are some famous and successful Puerto Ricans, but they don't seem able to muster much political power. Lin Manuel Miranda who wrote, directs, and stars in "Hamilton", the hottest Broadway musical, and J Lo are two.
When we were there, we rented bikes and rode from the OldTown to Condado, a strip of land with nice hotels which is popular with tourists. It was a very windy day.  While waiting for a traffic light to change, a large, poorly secured, "Construction Ahead" sign on the sidewalk blew over and hit me in the head. Thank God I was wearing a bike helmet. Save a cut on my hand, I was unharmed.  Hopefully the territory of Puerto Rico will be shielded from the most harmful fallout from the financial crisis, and allow this beautiful island, with its wonderful people, to regain its footing.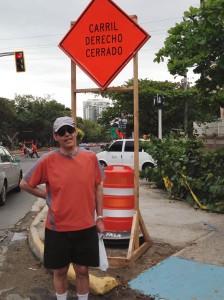 Visiting my sign
_______________________________
TABASFUNDING provides entrepreneurs with funding to acquire or expand businesses in the form of flexible loans from $100,000 to $750,000, or more. We supplement bank and other funds, and consider most types of businesses in Pennsylvania, New Jersey, and Delaware.   Please call 610-896-2400 or email Lee@Tabasfunding.com for further information.